Lenten Services
The season of Lent – a time for faith reflection and renewal in the Christian life – begins on February 17, Ash Wednesday. The Service of Holy Communion (with the opportunity to receive the imposition of ashes) will begin at 1:00 pm at St. John's Evangelical Lutheran Church. Reverend Michele Kaufman will lead us in worship.
On February 17th, there will also be an indoor Worship Service at 11:00 am and an outdoor Worship Service at 6:00 pm at St. Paul's Lutheran Church in Mountain Top, led by Pastor Kaufman.
This year, mid-week Lenten services, led by Pastor Kaufman, will be offered at St. Paul's Lutheran Church in Mountain Top. They will be held on Wednesdays (February 17, 24, March 3, 10, 17 and 24) at 11:00 a.m.
This year's theme is "The Road Jesus Traveled: The People Jesus Met".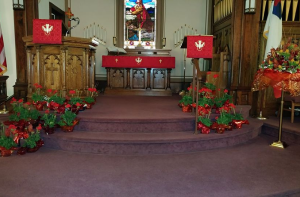 Special Services Held Throughout the Year Include:
Christmas Eve, Holy Communion Candlelight Service, 7:30 p.m.
Ash Wednesday, Holy Communion, 1:00 p.m.
Midweek Lenten Services, (see Lenten Services info.)
Maundy Thursday, TBD
Good Friday, Service of Shadows, TBD
Sunday School meets each Sunday from mid-September through mid-May at 8:45 a.m. and includes learning experiences for ages K - 6th grade.
First Communion instruction is offered each year for children in grade 2 or above.
A catechetical program is offered to students in grade 7 or above.