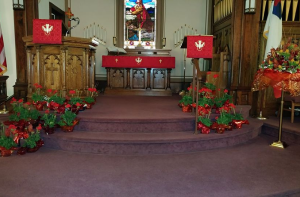 The Season of Easter
Christ is risen
Allelulia
The season of Easter is the high point of the Christian church year, lasting not a day but a full week of weeks. The season is an extended feast wherein the paschal candle is lit at every service as a sign of the risen Christ.
Special Services Held Throughout the Year Include:
Christmas Eve, Holy Communion Candlelight Service, 7:30 p.m.
Ash Wednesday, Holy Communion, 1:00 p.m.
Midweek Lenten Services, (see Lenten Services info.)
Maundy Thursday, TBD
Good Friday, Service of Shadows, TBD
Sunday School meets each Sunday from mid-September through mid-May at 8:45 a.m. and includes learning experiences for ages K - 6th grade.
First Communion instruction is offered each year for children in grade 2 or above.
A catechetical program is offered to students in grade 7 or above.
SUPPLY PASTOR SCHEDULE

April 4: Pastor Chip Fairchild-Communion Service
April 11: Rev. Melvin Mundie - No communion
April 18: Pastor Chip Fairchild-Communion Service
April 25: Rev. Melvin Mundie - No communion