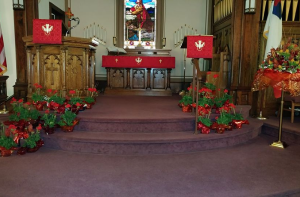 The Festival of Pentecost
Fifty days after Easter, we celebrate the outpouring of the Holy Spirit on Pentecost. Crossing all boundaries that would separate us, the Spirit brings the wideness of God's mercy to places we least expect it—to a crowd of strangers of different lands and tongues, to dry bones, to our weak hearts. Jesus promises his disciples that they will be accompanied by the Holy Spirit, and that this Spirit reveals the truth. We celebrate that we too have been visited with this same Spirit. Guided by the truth, we join together in worship, and then disperse to share the fullness of Christ's love with the world.
When we say God is the triune God, we are saying something about who God is beyond, before, and after the universe: that there is community within God. Our experience of this is reflected in Paul's words today. When we pray to God as Jesus prayed to his Abba (an everyday, intimate parental address), the Spirit prays within us, creating between us and God the same relationship Jesus has with the one who sent him.
Special Services Held Throughout the Year Include:
Christmas Eve, Holy Communion Candlelight Service, 7:30 p.m.
Ash Wednesday, Holy Communion, 1:00 p.m.
Midweek Lenten Services, (see Lenten Services info.)
Maundy Thursday, TBD
Good Friday, Service of Shadows, TBD
Sunday School meets each Sunday from mid-September through mid-May at 8:45 a.m. and includes learning experiences for ages K - 6th grade.
First Communion instruction is offered each year for children in grade 2 or above.
A catechetical program is offered to students in grade 7 or above.
SUPPLY PASTOR SCHEDULE

June 6: Rev. Melvin Mundie - No Communion
June 13: Pastor Chip Fairchild - - Communion
June 20: Pastor Chip Fairchild - Communion
June 27: Rev. Melvin Mundie - No Communion