Coffee Hour
The next coffee hour will be held on October 2nd and we will celebrate all members who have birthdays for that month. The coffee hour is held the firts Sunday of each month.
A sign-up sheet for sponsoring the coffee hours is in the St. Stephen's Room We look forward to seeing you on October 2nd.
Valley Food Pantry
As we do every year, our churches together with the Valley Food Pantry distribute special "Holiday" food boxes. This Thanksgiving our church will sponsor boxes of "stuffing mix". Donations must be in by November 17th. The pantry is also in need of coffee and tea and food products that contain meat. With such high rising costs for food, paper products,
etc., all donations are appreciated. No expired food please.
Donations may be placed in the narthex in the designated area.
Thank you to our church, our volunteers, and the Boy Scouts for continuing to support this ministry.
Boscov's "Friends Helping Friends"
Get your $5.00 shopping passes worth a 25% discount for Wednesday, October 19th now. The store hours are 8 am to 11 pm.
Please contact Melody Hinderer for the passes or call the church office.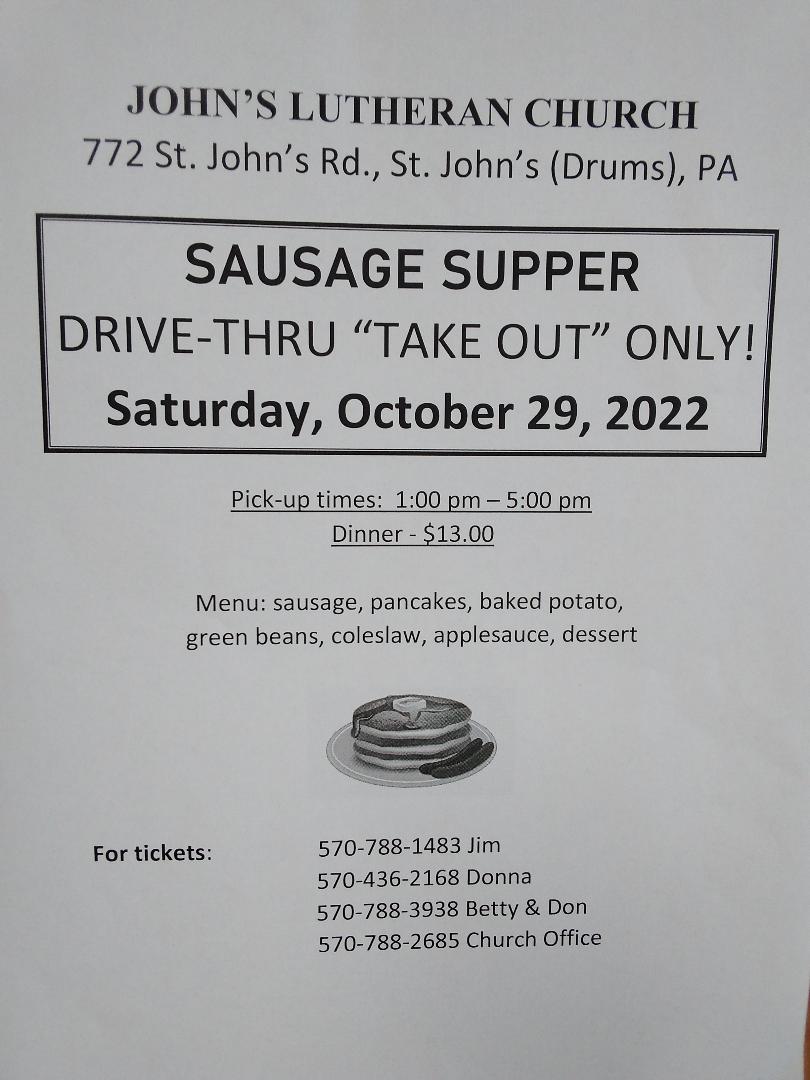 Beyond Violence/Berwick Women's Shelter Wishlist
The LCW is collecting the following items for the Berwick Women's Shelter. There is designated box in the St. Stephen's room for the following items: cleaning supplies, diapers, pull-ups and wipes, laundry detergent, fabric softener, paper products (toilet paper, paper towels, paper plates), large freezer bags, dish detergent, gift certificates to Giant or Weis, batteries (all sizes), women's hygiene products, shampoo, conditioner, body wash, toothpaste, toothbrushes, large storage bins, light bulbs, towels, washcloths, foil, saran wrap, children's clothing, food. Special urgent need for paper towels.
VOLUNTEERS NEEDED
We are looking for you to come join one or
several of our Church Ministry Teams! Be a part
of the many opportunities these teams provide.
We want and need you to join us in serving
God's calling with your time and talents to help
our church continue to grow in making this
place to share and express his love. Please
contact the church office if you are interested.
Worship & Music, Learning Ministry,
Stewardship, Finance Team, Property Team,
Altar Guild, Assistant Ministers, Lay Eucharistic,
Quilting, and Prayer Shawl.
CEMETERY ASSOCIATION
We have heard time and time again about how beautiful and well-kept our cemetery is. We often take for granted the hard work and endless hours that go into keeping our cemetery beautiful year after year. To help
with the upkeep, please consider giving a monetary donation "In Honor Of" or "In Memory Of" a loved one. Checks can be made payable to "St. John's Lutheran & Reformed Cemetery Association" or included with your weekly offering (please include a notation with your offering).
Boy Scouts and Cub Scouts
SCOUTS BSA and Cub Scouts have resumed in-person meetings. If anyone is interested, meetings are Monday nights. For more information, contact the church office and leave a message for Jen. Scouting is open to boys and girls ages Kindergarten through High School.
MEMBER INFORMATION REQUESTED
All Members, to update our files, please contact the church office at 570-788-2865 or email to stjohns@epix.net with your contact information, including name(s), address, phone number, email address, birthday and anniversary.
BIBLE STUDY – There has been discussion to start an Adult Bible Study group. A day and time has not been finalized as of yet. Please call or email the church office if you are interested in participating. Also, please include your preference of a daytime or nighttime meeting (Monday or Tuesday). This would be a great way that members could get together and engage in Bible Study.
Monthly Evening Meals For Divine Providence Homeless Shelter
We will be providing an evening meal for the clients of the Divine Providence Homeless Shelter. Members from our church will donate and/or cook a nourishing evening meal once a month. If you are interested in helping or making a monetary donation, please email the church at stjohns@epix.net or call the church office and leave a message.